There is nothing like crossing something off your to-do list!
The problem is, that doesn't happen too often as most of us make these lists a mile long piled with stuff we think we "have" to get done. Writing out things in our heads can be beneficial but it can be detrimental if we don't make the list work for us.
We can feel like we are never getting anywhere. So I came up with my own system that helps minimize the list and make it more manageable, you can also download the to-list template for free below!
Here is how it works:
First, write down all the "work" you feel has to get done or you want to get done in one day. This is a daily list so write everything that you need to get done today, what you want to get done and even the things you think "should" get done.
After you write all those down, it's time to break them up into categories. First, you move over all the things that absolutely CANNOT WAIT another day. So if you have laundry that needs to be switched to the dryer, a bill that needs to go out, or a blog that must be published today, put it on this list and cross it off the first list.
Next, it is time to trash some things. Review your list and move over the items that are just wasteful. Whether its wasting your time, money, or energy…get rid of all the things that really do not need to be done. Do you really "NEED" to go buy new shoes? Do you really need to make those elaborate birthday favors you found on Pinterest?
Get my free minimized and manageable to-do list printable and start getting shit done today!!! 
Now let's enlist some help. Are there items on your list that others can help you with? My son can help me with the lawn and my husband can definitely stop at the store for paper towels on his way home from work. Don't be afraid to delegate and include your family in this process.
Next, ask yourself "What can wait?" Are there things that can wait a few days? I know I absolutely don't need to clean the garage today and I can get by without doing a load of laundry.
Next, ask yourself what do you really WANT to do? This is VERY important. We fill our lists with so many "shoulds" and "have to's". It is essential to list some things that you would love to do if you didn't have all these other things to do. For me, I usually want to do some sort of exercise or something fun. Always make sure to honor yourself in your day by doing something you truly want to do.
Finally, after you have moved everything into a category, it is time to make your new 'Winning List' based on the items in your "Can't Wait" and "Wants" lists. Keep this list short and manageable. Remember, this is for one day. Now, doesn't this list look way more fun and manageable?
Here is an example of one of my lists: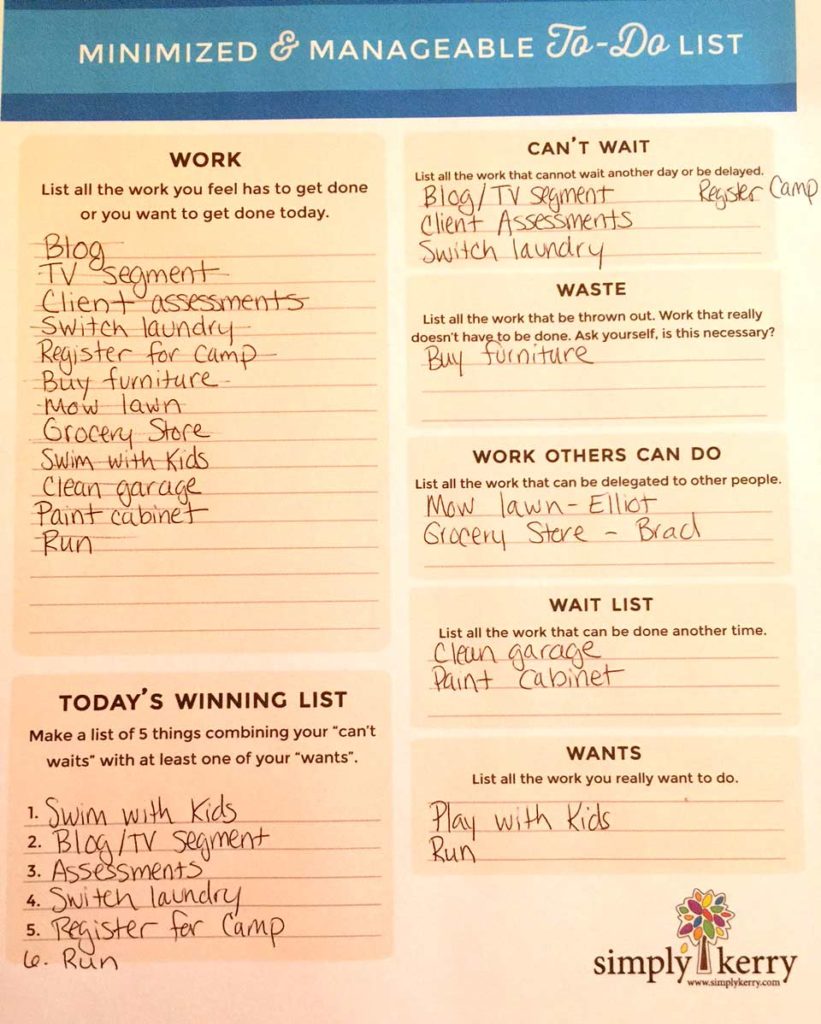 Whenever stuff gets crazy in my life, I sit down for 5-10 minutes and go through the method above, the immense feeling of relief when I look at my simplified list is second-to-none.
This method will make your seemingly overhwhelming list of stuff to do way easier to manage, making you more productive and at ease. Try it yourself!!!!
Download your free to-do list printable template now!!! 
Feel free to share your examples over on my Facebook page too! I'd love to see and hear how this is working for you!
Here is our Transformed To-Do List that we do as a family!!! It has been a game-changer on the weekends. Here is a video of my husband and I talking about it.