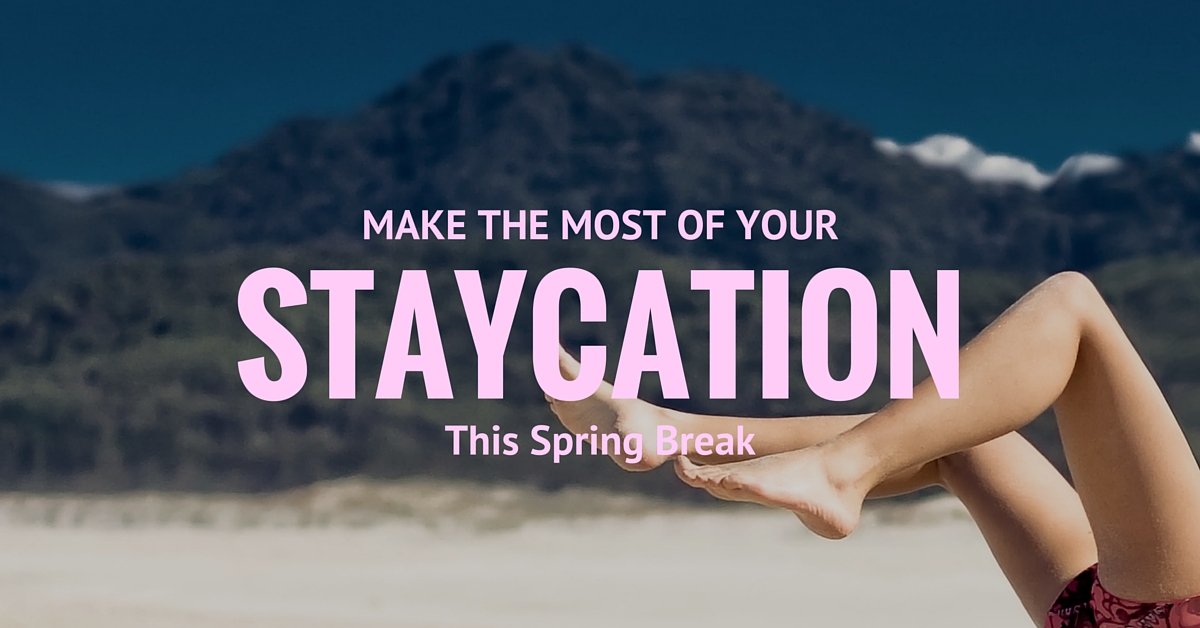 Spring break is underway and for those of you not heading away this year, let's take a look at how we can 'vacationify' your time at home.
I have talked to numerous people that aren't traveling this break and when I ask what their plans are, I hear "not much" or "probably work or catching up on things". They are usually disgruntled and throw in a complaint or two about not going anywhere.
This post is to help you make the most of your staycation. There are so many benefits to staying home. You can save money, discover new things in your town, connect with your family, and learn to appreciate what you have. The key is to plan ahead so you aren't wasting time because it will fly by. Also, make sure that if you are off work, that you are actually off! Do not make yourself accessible just because you are in town. Set boundaries by letting people know you are on vacation and set auto-responders in your emails. Be open to new possibilities and ready for some fun.
Here are some ideas for a successful staycation (click to enlarge and scroll through!):
Hand-painting

Get your paints out and paint up each person's hands and have fun making a collage of everyone's hand prints. You can do this on a big piece of paper or buy a white canvas and then you can hang it up after it dries.
Rollerskating

Check out your local roller-skating arena or get outside and hit the pavement for some fun roller-skating or rollerblading
Camp out in your living room

Get out your sleeping bags and set up your own in-doors camp. Kids love getting to change it up for a night and sleep in the living room!
Pedicures

Go to a local shop or set this up at home. Make it a spa day or night and relax while pampering each other.
Build an indoor blanket tent

Gather all the blankets and set up a tent in the kid's bedroom or living room. Get the flashlights out and make fun shadows to add extra fun!
Have a fashion show

Everyone finds their own pieces of clothing to dress themselves up in. Turn on the music and show off your fashion. Make it extra fun by trying to create the craziest outfit, or pick out each others outfits to spice up the fun.
Go bowling

Check out your local bowling alley for some fun competition and laughs.
Rock-jumping

Find some rocks to jump from one to the next on. Your local parks are always a good spot. See who can jump the furthest!
Play restaurant! Let the kids plan dinner

Get a pad of paper for them to take your order and let them practice their waiter/waitressing skills.
Try Something New!

Try out a new instrument, sing karaoke (there are apps for that!), start a new puzzle
Glow dance party

Go to the dollar store or craft store and find some cheap glow sticks or necklaces. Turn on the music, turn off the lights, and let those glow sticks light up. Just dance and have fun!
Make a Bucket List

Get some popsicle sticks or pieces of paper and have the kids write down some fun things they'd like to do. Then pick one! You can use this all summer when you want to do something fun or when you run out of ideas.
Explore the outdoors

Find a rock fort, or make a fort!
Plant something together

Find something simple to plant together, whether it's indoors or outdoors. Water it and watch it grow in the upcoming days and weeks.
Paint outside

Take your paints and paper and head outdoors. When you're out in nature, your creativity can run wild.
Look for statues

Take a walk or ride around town or a town near you and see if you can find any cool statues. Learn about them!
Swing!

Go to the park and everyone take a turn on the swing. See how high you can go and feel the fresh air. Use the playground and just enjoy all the equipment it has to offer!
Go to the Store Together

Look and see what cool things you can find. Have fun and enjoy being silly together!
Go to an aquarium or pet store

Check out a local aquarium or pet store. Just browse around and see what they have to offer and learn something new while you're there!
Take a random roadtrip

Flip a coin and take random roads. See where you end up! While you're at it, see if you can find any rainbows, look for anything with the word 'Happy' on it, see who can spot the most American flags. Keep count to see who wins!
Get some oreos

Everyone puts an oreo on their forehead and has to get the cookie in their mouth without using any hands. Get ready to laugh!
Play in the Rain

Get out and let the rain soak you. Dance and sing and just enjoy the fresh raindrops.
Let the kids plan dinner

Get a pad of paper for them to take your order and let them practice their waiter/waitressing skills…
Legos

Get the Legos out and see what you can come up with to build together
Yardwork

Do some spring yard work together and make it fun!
Bring the sand indoors

Fill a box with sand and play with it inside. Kids will love it!
And lastly here's a video I made for you covering a few more awesome ideas for you and the family to get involved in!