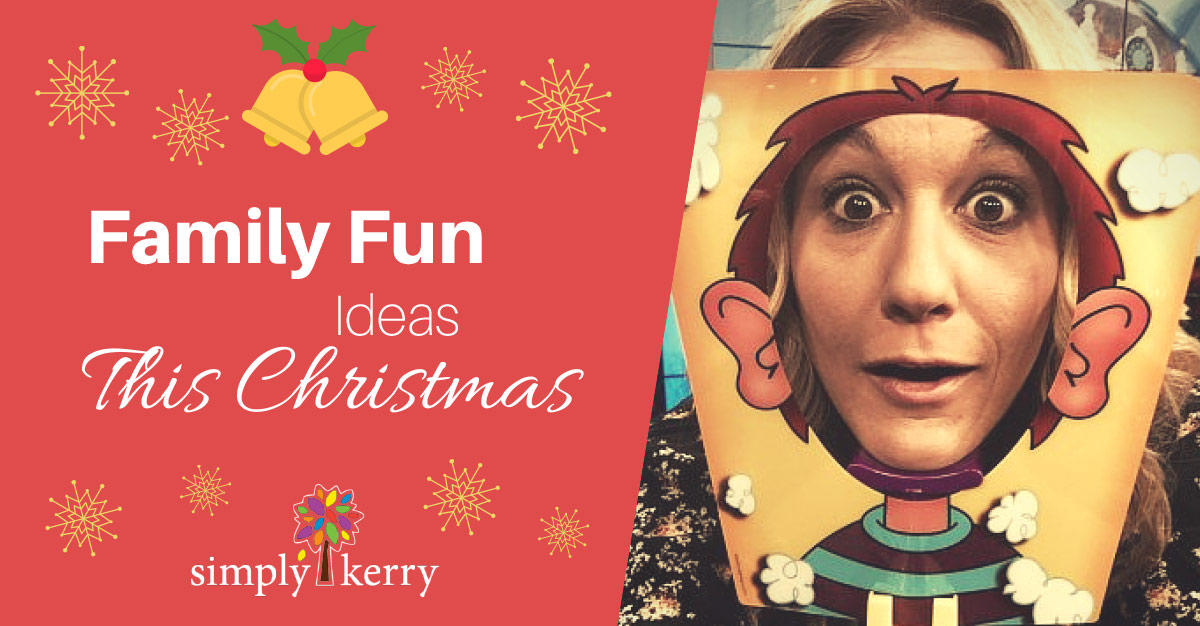 Electronics are probably at the top of many Christmas gifts this year…
…but they don't exactly promote connection and togetherness. As we get ready to gather with family and friends this season, I highly recommend creating new traditions and trying to do activities that bring you and your loved ones together.
After my dad passed away, the holidays were really though. We tried so hard to move forward but the reality is, it's never the same. I decided we needed to create some new traditions and focus on being together because that is what dad would have wanted. He also had the best sense of humor so I decided we needed to add some fun in our family time. The year he died we played board games and had a dance-off competition – in costume of course! It was by far one of the most amazing and memorable times with my family.
We bonded in the most incredible way. I recommend board games or games involving movement so you aren't sitting and eating the entire holiday. Below is a list of various games you can play and all of them will bring you closer together – which is what the holiday season is all about. You will find yourself talking, making eye contact, being silly, letting go, and starting new traditions.
Give it a try and head over to my Facebook page and share your photos and games you like to play with your family!

Here are my favorites:
Dance Dance Revolution (in costume of course)!
We had a blast doing this as a family! Yes we used electronics for this one, but you don't need it to have a family dance off party. Turn on some music and cut a rug! Rotate judging or one person leads and everyone has to follow their moves.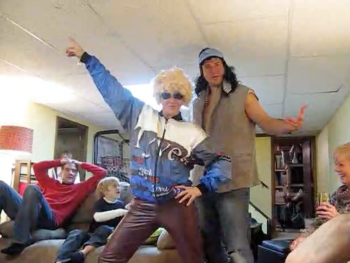 Quelf
This board game is absolutely hysterical. This game gets you all huddled together and gets your silly pants on! It will definitely help get the shy ones out of their comfort zones!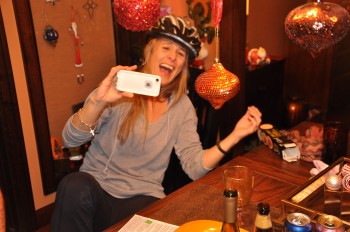 Heads Up
This is fun for the whole family. It's fast paced and requires quick thinking. The app records each round making it even more entertaining.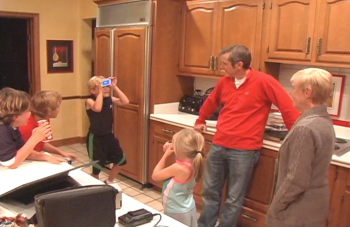 Boom Boom Balloon
A great one for kids and adults. This game builds anticipation as you push sticks into the balloon waiting for it to pop.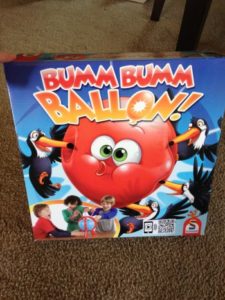 PieFace
This game is flying off the shelves and I understand why. I mean who doesn't want to watch someone get a pie in the face. We tested this out on Coaching with Kerry and it was hysterical. The kids love this! The clean-up was a bit annoying but so worth it.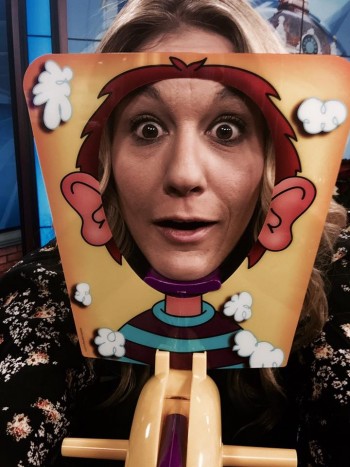 Pass the Parcel
This was one of my favorite games as a child. This is a great one for the grandkids. Go around the house and fill up a giant bag of random clothing items accessories. Our bag is usually full of funny shirts, hats, bras, ski googles, wet suits, scarves, etc. Everyone sits in a circle and begins passing the parcel around while music is playing. Designate someone to start and stop the music and when it stops the person with the bag draws out an item and has to put it on. The game continues until all the bag is empty and everyone will be dressed in crazy attire! Make it crazier and have them go out in public in their outfits.
Here are some Fan Favorites
Bingo and Gifts!
We started a newer tradition of playing bingo at my Aunt's house! We forego doing the typical gift exchange (except for the littlest ones) and instead, play a series of mean games of bingo. My aunt collects deals all year long to give as prizes; so many that there are laundry baskets filled with prizes, one for women, one for men and one for kids. We have an awesome time playing and being competitive. Last year, my aunt got funny and threw a pregnancy test in the mix of prizes and my mom drew it. You can only imagine the laughter!
Tenzi
Tenzi is fun age 4 to 89 can all play together. It gets loud though!
Ping Pong
If you don't have Ping Pong, you can whip it up in the kitchen! Portable sets are a great way to bring fun anywhere!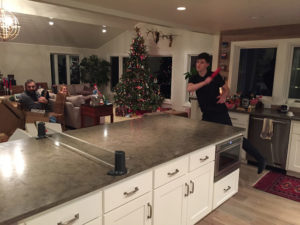 Pantyhose and Balloon Antlers
Get some pantyhose and balloons from the dollar store and you have a cheap game of fun! Divide into teams and have each team choose a "Reindeer". Set a timer for 10 minutes. Give the leader the pair of pantyhose and the rest of the team members have to blow up balloons and hand them to the lead reindeer to stuff into the pantyhose. When the timer goes off, the reindeer has to put on their antlers and the one with the biggest rack wins!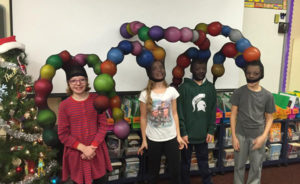 Holiday Trivia
We started a new tradition they started on Christmas Eve where they compose trivia questions relating to the holiday (songs, movies, books, characters). It is a timed competition and there are prizes for best and worst results. Everyone gets into it and it's always good for a lot of laughs.
Santa Sweeptstakes
My Mom has always been a big coupon, sweepstakes and rebate person. She collects rebate freebies throughout the year for a Santa grab bag. Everyone looks forward to it and enjoys trading and comparing. It's amazing what you can get for free!
Sequence
We love playing Sequence as a family! This is a great game for everyone!

Left, Right, Center
This game involves gambling but I love it! You can play with anything from dimes to quarters or dollars. Fun way for people ages 4 to 94 to be able to play the same game
Christmas Pictionary
We love doing Christmas themed Pictionary because then even the little ones can play. Guys against gals!
Spot it!
This is fun for all ages!