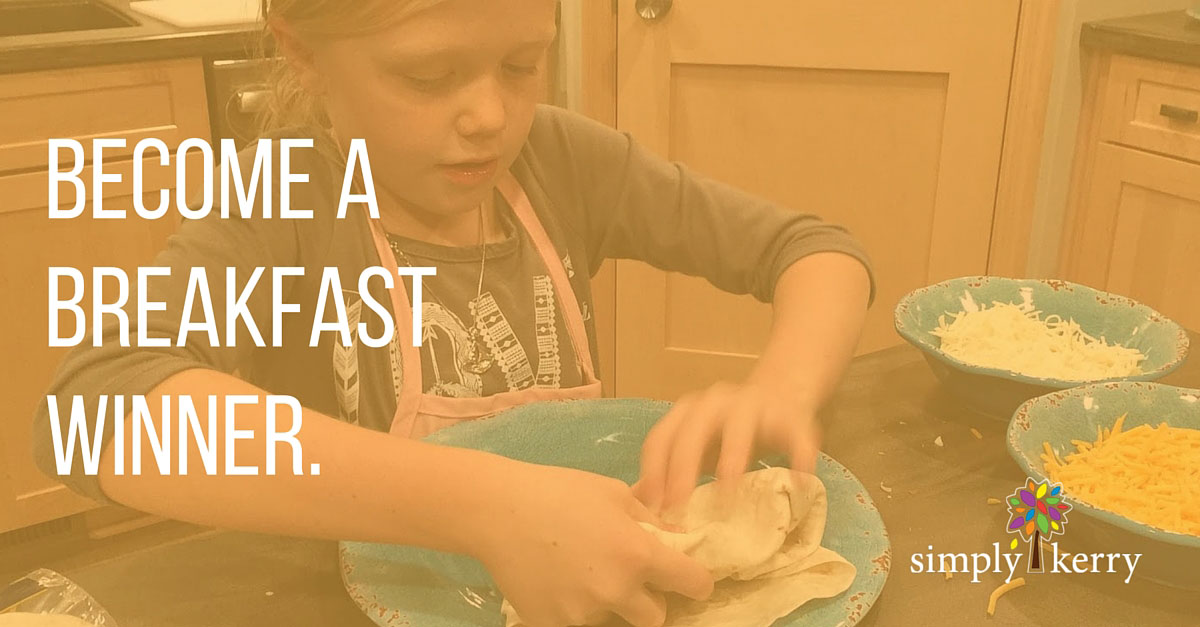 Breakfast is the most important meal…
We have all heard it. However, so many of us are still skipping one of the easiest ways to start the day off right. You don't run your car on empty, so why are you running yourself that way? Food is fuel and you can experience big shifts by making this small change. I know I didn't have time either. We are always on the go in our house and getting a healthy meal seemed like it took too much work. I set out to find some solutions that worked for my family. Here are some simple ways to get some nutrients and energy in your body to start the day:
Smoothie Solutions
There is nothing like a good smoothie in the morning! I don't know what it is but this cold treat is refreshing and gets me going. It also reminds me of being a kid. But lets problem solve because they can be a pain.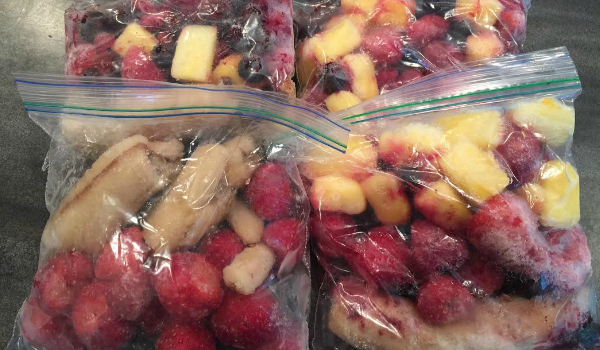 1. Simplify with pre-made bags 
This is a great activity to include the kids on. Make an assembly line and stock baggies with the different ingredients you want in your smoothies. In the morning, all you have to do is dump the bag in the blender, add your ice and liquid and hit start!
2. Buy a blender that works for you
This is key. When I first started making smoothies, I purchased the Magic Bullet because I was the only one drinking them and I didn't want to clean the blender all the time. This was super convenient and I could just blend and go because the container you blend in is also your cup.
Eventually, my entire family joined the smoothie train so we invested in something that blends really well and doesn't leave any chunks especially when using vegetables. I recommend a Ninja or Vitamix.
3. Savor your smoothie
What do you do with the leftover mix in your blender? Pour it in these silicone holders and throw them in the freezer! They make awesome frozen treats! I put them in my kid's lunches as well and by the time it's lunch they are like a cool yogurt. You can buy these here on Amazon.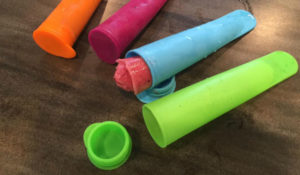 Tips:
– When bananas start to turn brown, peel them and put them in a plastic baggies and freeze for your smoothies
– Go green! Try adding greens to your smoothies or go all green if you can. Spinach, celery, cucumber and kale are great to add
– Freeze a bunch of kale to throw in
– Play around with liquids – water, coconut water, almond or coconut milk, fresh juices
– You can add herbs and spices – cinnamons, mint, parsley, and thyme
– Add coconut oil, nut butters, or avocado to get good fats and texture
I have some recipes on my Pinterest Board.
Bake Some Eggs
These are easy peasy and give you a great boost of energy and protein in the morning! They are also fun to prepare with your kids. There are recipes all over the internet for these but I make it super simple. All you need is a muffin pan, eggs, and whatever ingredients you desire. Mix up your eggs, pour in a greased pan, then drop in your ingredients, and bake!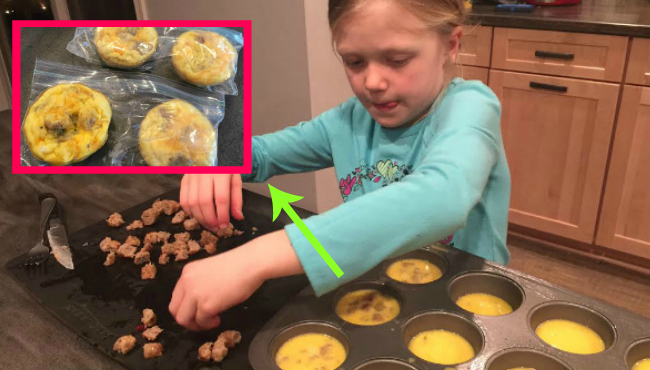 Here's a more formal recipe:
(Makes 1 muffin pan full)
– Preheat oven to 350 degrees F (175 degrees C). Lightly grease 12 muffin cups, or line with paper muffin liners.
– Heat a large skillet over medium-high heat and stir in whatever ingredients you like: (sausage, onion, peppers, spinach, etc)
– Beat eggs in a large bowl
– Pour egg mixture into muffin tins, add ingredients to each.
– Top with cheese if you like.
– Bake in preheated oven until a knife inserted near the center comes out clean, 20 to 25 minutes.
Freeze in baggies. Take a couple out the night before and put in fridge. Heat in the morning for breakfast!
Put Breakfast in a Burrito
This is by far my favorite make ahead meal in our house! The whole family gets involved in this one!
(Makes about 20-30 burritos)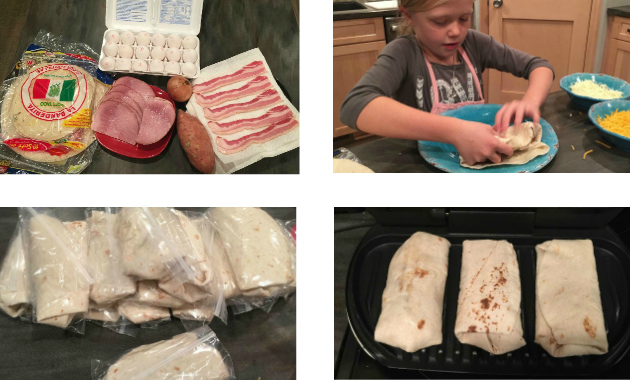 Ingredients:
– 24 eggs
– 1 large sweet potato
– 1 large onion
– 1 pkg of bacon or meat of your choice (precooked – ham and sausage work great)
– veggies of your choice
– shredded cheese
– black beans (low to no sodium)
– large tortillas
Instructions:
– Cook bacon or meat of your choice and set aside
– Cube sweet potato and boil
– Cube ham or sausage
– Sautee onion in olive oil and white cooking wine until onions are brown
– Mix eggs, meats, veggies (including boiled sweet potatoes), and beans in frying pan on medium heat. You may have multiple rounds of cooking depending on the size of your frying pan.
– Once the eggs are cooked, scoop 1-2 large "spoonfuls" onto a burrito. If serving fresh you can add spinach or kale if you like. Add cheese (amount to liking) and then wrap.
We do this as a family and everyone makes burritos to their liking. Store in plastic bags or wrap in Saran Wrap. Store in freezer.
Take one out at night and put in fridge to thaw (depending on size and time thawed, you may have to microwave it a little in the morning). Cook in panini maker or George Foreman grill, or even a frying pan. If you forget to leave one out at night, defrost in microwave for 1 minute and then grill. These are great for any meal!
No more skipping the most important meal! Try out these easy breakfast ideas with your family and enjoy 🙂