Join me and my team in a 4-Week online course
to

help you transform

through the season and be WELL this winter.
We kick off the course on December 7th, 2020!
Winter was one of my favorite seasons as a child but as an adult it is much different. I still love the snow and all the excitement that comes with the holidays and gatherings but I struggle with the cold, shorter days, dry weather, and motivation. 
As we shift through the seasons, we need to  make sure we are shifting how we take care of ourselves. 
Many of us experience low moods, lack of energy, and our risk of getting sick increases  making it more difficult to handle the stress and triggers around the holidays and in the winter. In this 4-week series, we will be tackling the common struggles we face in the winter and find solutions to move through successfully so we feel WELL.
What you can expect:
* Wellness and health tips and tools through the winter
*Money Matters: Move through financial stress and tips to help you not over-spend and have a good shopping experience
* Handling triggers and transference through family and social gatherings
* Moving through hard emotions 
* Solutions for staying active 
* Fitting in winter fun for the whole family
* Recovering after the holidays  
This is a short course that will help you find some motivation and use the season to shift your self care so you move through the darker, colder months much better than before.
You will receive weekly lessons, resources, and actions you can easily implement to maintain health and happiness. We will be connected in a private coaching group where my coaching team and I will be guiding you further to work through blocks, struggles, and help identify solutions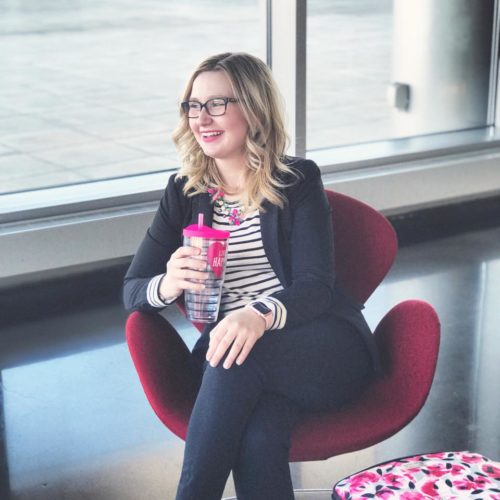 Delaney Francis

I loved this course! It was all around a "perfect" fit for my imperfect life. Perfect timing, perfect price, perfect amount of work. I was able to invest in myself during the busiest time of my life. I am a busy college senior, full time working professional, and entrepreneur. This course revamped my spirits and health for the holiday season. I gained confidence, self-love, and courage to fuel myself forward!
This Course Is For You If You Are
Struggling with motivation

Having lower energy levels 
Avoiding doing things with people 
Complaining about the weather and the cold
Afraid you will get down and depressed this season
Not sticking to a movement plan
Struggling with sleep 
Struggling with less daylight
Avoiding working out 
Having trouble eating healthy
Desiring more energy and motivation
Wanting guidance and connection with high energy people
Wanting more fun in your life
Wanting to learn how to handle negativity and stress in the holidays
Want to identify your struggles and create solutions
Need help managing your money during the holidays
This is a simple course that will produce dramatic results!
Come transform with me and my team and see how we keep ourselves healthy and happy through the seasons!